6-day vehicle-assisted hike, full board, cooking service.
A trip to one of the most interesting geothermal sites in the world: the area around Torfajökull glacier, the most popular outdoor havens in Iceland, but the areas we will explore are off the beaten track and not known to many. Locals are interested in the area, normally around half of the group is Icelandic.
We put emphasis on good local food and offer our guests traditional Icelandic dishes. For breakfast organic porridge from Icelandic barley, delicious delicacies on the road and meals from high quality raw materials.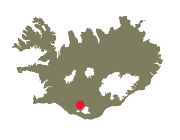 Day 1: The group meets at BSÍ Bus Terminal at 9 am. We drive up Fljótshlíð into Fjallabak reserve. We make stops on the way and walk along the amazing colorful Markarfljót canyon. We stay for three nights in a beautiful green valley between Mýrdals- and Torfakull glaciers.
Day 2: We explore the area at the feet of Torfajökull glacier where Hólmsá glacial river finds it´s origin. It is possible to walk all the way up the glacier and enjoy the view of the wide mountain range with glaciers, sands and green rocky mountains. Warm mountain-bath in the old Strútslaug natural pool. Another night in the valley.
Day 3: A hike along the Hólmsárlón lakes and beautiful waterfalls that flow softly from the lagoon. There we find the spectacular crater Rauðibotn, one of the most beautiful natural pearls at Fjallabak.
Last night at Mt. Strútur.
Day 4: Now we continue on to the ancient mountain route South-Fjallabak, where our ancestors travelled for centuries. Beautiful walking path along the glacier. Night location in the valley at Hvanngil.
Day 5:  We visit waterfalls close to Hvanngil and hike the mountain ridge Hvanngilshnausar, where there is a magnificent view of the area in good weather. In the afternoon we head over Emstrur to our adventurous hut in Fljótsdalur facing Mt Eyjafjallajökull that erupted 2010.
Day 6: On our last morning we take a nice and easy hike in the area before returning back to civilization.
Price:  169.900 + VAT
Included:
Driving and transportation of food and luggage
Guided tour in English, German or French
Full meals (high quality biological food)
Accommodation in tent (huts possible with extra costs)
Cooking service
Yoga morning stretches (optional)
Group size: 8-18
Equipment:
Hiking boots, backpack (45-60 L), sleeping bag, sleeping bag liner (optional), water bottle, thermos, sandals or neoprene socks to cross rivers.
Cloths:
waterproof trousers and jacket with hood, breathable if possible (Gore-Tex f.ex), thermal underwear (wool, silk or synthetic), trousers (wind resistant), sweater (wool or fleece), gloves (wool or synthetic), hat (wool or synthetic), 3-4 pairs of socks (wool or synthetic), swimsuit.
Other gear:
Toothbrush, sunglasses, sun hat, towel, pocket knife, lamp.